Art No: CTX-4580-X - Auto Air Sparklescent - Mango
4500 Series - Sparklescent Colours
Unique blends of multiple effect colour that create a single stage "candied" effect. Apply over a white base or colour key with a 4300 Series Metallic Colour.
Thinning: Reducing is not recommended.
Recommended for use with a Spray Gun.
Sizes: This product is available in 4oz (120ml), 16oz (480ml) and 32oz (960ml) sizes.
Guides: Auto-Air Application Guide sheet, Auto-Air User Guide instructional DVD.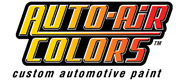 Water-based
Non-toxic
Lightfast
Permanent
Ready-to-spray out of the bottle - no mixing required
Sprays smooth with a silky, finely atomized pattern
Self-levelling while drying to a flat, even finish without the "orange peel" look.
Excellent adhesion
May be masked with automotive tape
Use for entire vehicle paint jobs or graphics.
Available in over 147 colours and effects
Intermixable to allow limitless colour blends and effects
Made with automotive specific pigments and binders
Fully compatible with any automotive urethane clears, paints and primers
Advantages of Auto-Air over urethane systems:
Surprising performance
No time windows to work under
Greater flexibility - more resistant to chipping and flaking
Easy clean-up
Cost savings and time efficiency
Safer to use
Contain less than 0.01% VOC