Auto-Air Candy2O 120ml Cool Set D
£167.29

£

139.41 exc vat
If not otherwise stated, our normal delivery lead time is 3 – 5 working days.
Description
Additional information
Reviews (0)
Description
Art No: CTX-4967 – D – Auto-Air Candy2O 120ml Warm Set D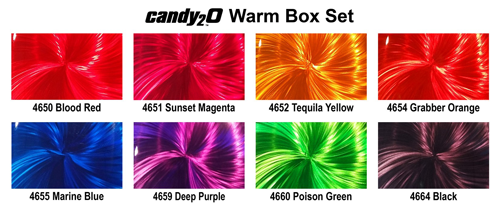 Createx™ Auto-Air Colors™ are the latest breakthrough in water-based, non-toxic automotive coatings technology. Use Auto-Air Colours to achieve brilliant, durable custom paint jobs on cars, trucks, motorcycles and helmets.
What's included:
CTX-4650-04       Auto-Air Candy₂O Blood Red (120ml)
CTX-4651-04       Auto-Air Candy2O Sunset Magenta (120ml)
CTX-4652-04       Auto-Air Candy2O Tequila Yellow (120ml)
CTX-4654-04       Auto-Air Candy2O Grabber Orange (120ml)
CTX-4655-04       Auto-Air Candy2O Marine Blue (120ml)
CTX-4659-04       Auto-Air Candy2O Deep Purple (120ml)
CTX-4660-04       Auto-Air Candy2O Poison Green (120ml)
CTX-4664-04       Auto-Air Candy2O Black (120ml)
CTX-4101-04       Auto-Air Aluminium Base Fine (120ml)
CTX-4030-04       Auto-Air Intercoat Clear (120ml)
CTX-4012-04       4012 High Performance Reducer (120ml)
New Createx™ Candy₂O are brilliant transparent colours for custom refinishing and airbrushing. Candy₂O combine advanced water-soluble, urethane resin technology with crystal-clear dyes to create truly exceptional candy colours.
Technical Specification:
Candy₂O must be mixed with the new 4030 Intercoat Clear (approximately 10%). It can be reduced further with Auto-Air Reducers. Also seal with the 4030 Intercoat Clear.
Application:
The Candy₂O works very well over a silver or metallic base colour, such as Auto-Air Aluminium Base or the new AutoBorne Sealer Silver.
What is the difference between Candy2O and original Auto-Air Candy?
The Candy₂O is a dye whereas the old Auto-Air Candy is a pigment-based, ultra-transparent paint. Candy₂O is the true water-based equivalent of popular solvent-based candy dyes.
Sizes: This product is available in 4oz (120ml), 16oz (480ml) and 32oz (960ml) sizes.
Please note that the colours shown on Airbrushes.com are a guide only.